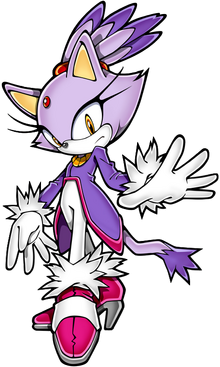 Blaze (also known as Cat Girl, Cat Woman, Highness or Princess Blaze) is mobian cat
Biography
Edit
Blaze was born into the royal family of a kingdom in her home dimension who has protected the Jeweled Scepter for generations.[9] From birth, Blaze possessed the inherent power to control flames with her body, an ability she possessed for her future duty as the guardian of the Sol Emeralds. However, because of her initial inability to control her powers, other children teased her about it when she was younger. As such, she would wear a cape to disguise her abilities which she would only discard when needed. In the end, Blaze's powers made her spent most of her life alone.
Modern Era
Edit
Sonic the Hedgehog (2006)
Sonic Colors
Sonic Generations
Sonic and the Secret Rings
Sonic and the Black Knight
Sonic Riders: Zero Gravity
Mario & Sonic at the Olympic Games
Mario & Sonic at the Olympic Winter Games
Mario & Sonic at the London 2012 Olympic Games
Mario & Sonic at the Sochi 2014 Olympic Winter Games
Ad blocker interference detected!
Wikia is a free-to-use site that makes money from advertising. We have a modified experience for viewers using ad blockers

Wikia is not accessible if you've made further modifications. Remove the custom ad blocker rule(s) and the page will load as expected.