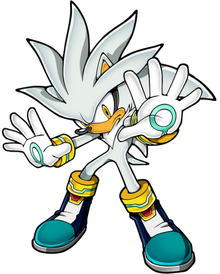 Silver (also known as Psychic Hedgehog) is mobian future hedgehog
Biography
Edit
Silver has three conflicting backstories for Sonic the Hedgehog (2006). On the game website, it states he came from a happy future that was never destroyed and ended up in the past where he learned his future would be destroyed and tries to prevent it from changing for the worse. In the game guide, it is implied that Silver is from the present and ends up in the future; where he learns that it was destroyed during the events in Sonic the Hedgehog and goes to seek what would destroy the future when he returns to the past (though it is mentioned in a cutscene that he is from the future; see below). The actual story is in the game, Silver lives in a destroyed future and goes to the past to change the future for the better.
Modern Era
Edit
Sonic the Hedgehog (2006)
Sonic Colors
Sonic Generations
Sonic and the Secret Rings
Sonic and the Black Knight
Mario & Sonic at the Olympic Games
Mario & Sonic at the Olympic Winter Games
Mario & Sonic at the London 2012 Olympic Games
Mario & Sonic at the Sochi 2014 Olympic Winter Games
Sonic Riders: Zero Gravity
Ad blocker interference detected!
Wikia is a free-to-use site that makes money from advertising. We have a modified experience for viewers using ad blockers

Wikia is not accessible if you've made further modifications. Remove the custom ad blocker rule(s) and the page will load as expected.